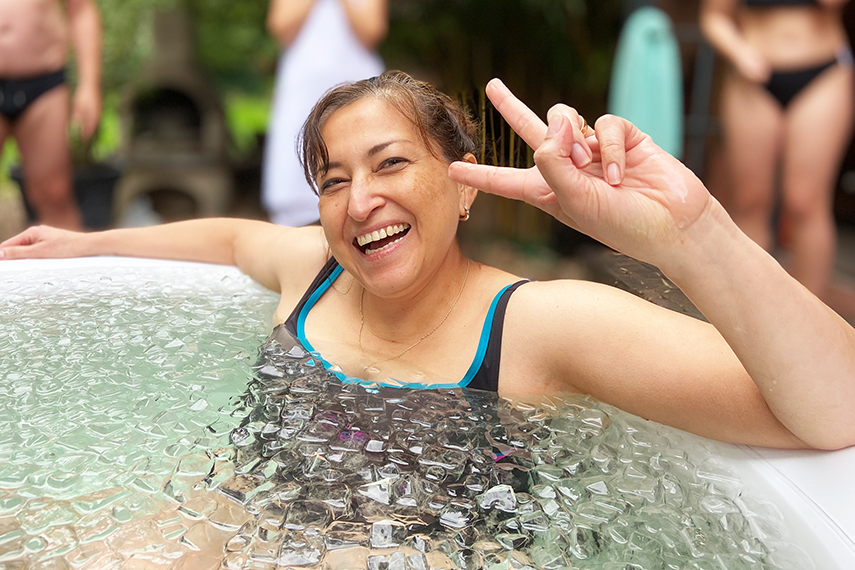 WHM FUNDAMENTALS WORKSHOP – MÜNCHEN
93
93 people viewed this event.
"In the cold I centre myself and my breathing to transfer all my heat into the centre of my body." – Wim Hof
ATMUNG|BEWEGUNG|EISBAD|MINDSET
Baue innere Stärke, Widerstandskraft und innere Ruhe, durch die Anwendung der WIM HOF METHODE auf. Die 3 Säulen Atmung, Kälte und Fokus werden ausführlich geübt und das Wissen dazu detailliert vermittelt. Man lernt Sauerstoff und Kälte zu nutzen, um Körper und Geist effektiv zu optimieren.
Der Körper füllt sich im Laufe des Workshops mit großer Vitalität und bodenständigem Schwung.
✓ Stärkung des Immunsystems
✓ Steigerung der Kraft- und Energiereserven
✓ Reduzierung von Stress und besserer Schlaf
✓ Verbesserung der Sportperformance
✓ Größere Kältetoleranz
WAS BEKOMMT MAN:
✓ WHM Atmung
✓ EISBAD
✓ BEWEGUNG
✓ Theorie, Tipps & Tricks
Jeder Teilnehmer erfährt 'praktisch' die Kraft der Atmung (Atemübungen, Atembewusstsein, Atemkontrolle), die Energie der Kälte (Eisbad, Kältekontakt) und die Macht der inneren Stärke (Fokustraining und Meditation)
PRIVATE ATMOSPHÄRE
Die private Atmosphäre des Workshops garantiert eine direkte Betreuung jedes Einzelnen. Egal ob man seine mentale und physische Leistungsfähigkeit verbessern möchte, Symptome einer Krankheit reduzieren möchte oder einfach nur neugierig ist und herausfinden will, was die Wim Hof Methode ist.
WAS MUSS MAN MITBRINGEN:
✓ Yogamatte
✓ bequeme Kleidung
✓ Schwimmsachen & Badelatschen
✓ Handtücher, ggf. Bademantel
SPRACHE: Deutsch
ORT:
Kanu-Club Turngemeinde München e. V.,
Zentralländstraße 4
81379 München
PREIS:
129 € / Person
VERPFELGUNG:
Im Workshop gibt es Tee & Wasser. Bitte für Verpflegung selbst sorgen bzw. 5 min enfernt gibt es das Naturfreunde-Haus mit vegetarischer Kost.
Für WEN ist der Workshop?
Dieser Workshop ist für jedermann geeignet, allerdings ist ein gewisses Grundmaß an Gesundheit erforderlich. Aus Vorsorge, raten wir dringend von einer Teilnahme, während der Schwangerschaft und beim Vorhandensein von Epilepsie, ab. Menschen mit Herz-Kreislauf-Risiko oder anderen schweren gesundheitlichen Problemen sollten einen medizinische Fachmann konsultieren, bevor sie mit der Wim Hof Methode starten.
Ich freue mich auf Euch!
Wim Hof Methode – Gesundheit, Stärke & Freude