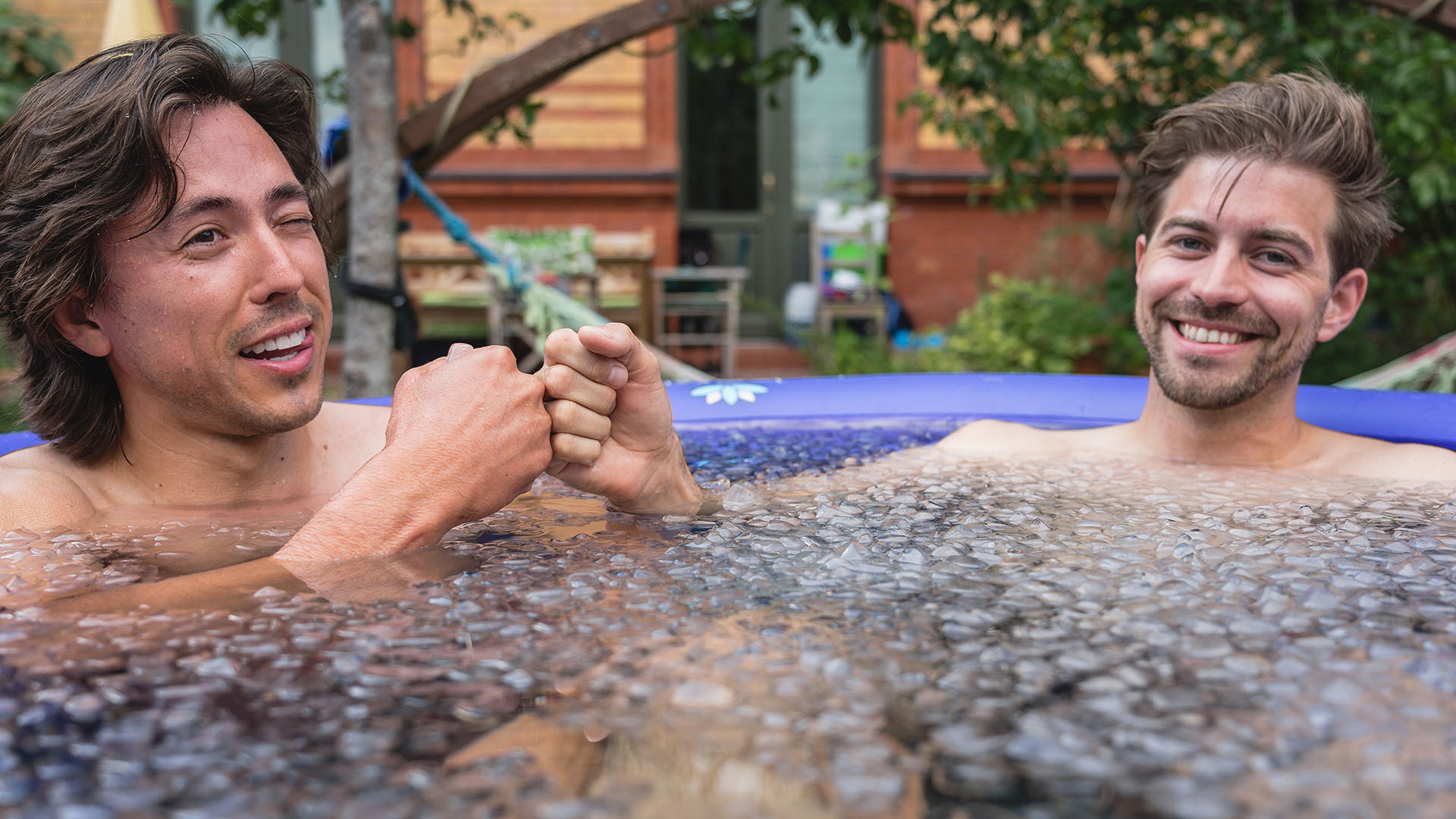 WHM FUNDAMENTALS WORKSHOP – HAMBURG
695
695 people viewed this event.
"There's no limit in your spirit, it's a chemical balance that you can control" – Wim Hof
"ENTER the BLUEZONE" und erlebe die WIM HOF METHODE (Atmung, Kälte, Mindset) im HAMBURGER DING
Dieser besondere Workshop findet in Kooperation mit Bluzone und dem Hamburger Ding statt.
Bist Du bereit, mit uns den Biohacker-Olymp zu besteigen und alle Vorteile der kalten Thermogenese zu erfahren? Wir gemeinsam mit dem Wim Hof-Kältecoach @Daniel einen Kälteworkshop der Extraklasse! Baue innere Stärke, Widerstandskraft und innere Ruhe durch die Anwendung der WIM HOF METHODE auf. Die 3 Säulen Atmung, Kälte und Fokus werden ausführlich geübt und das Wissen dahinter vermittelt. Man lernt Sauerstoff und Kälte zu nutzen, um Körper und Geist zu optimieren.
Was Dich erwartet:
✓ 45 Minuten Power-Workout im Haus-Gym mit Miszek (bluezone)
✓ 4 Std. Kälte- und Atemtraining unter professioneller Anleitung von mir
✓ Ausklingen mit Essen im bluzone-Style: gesund, lecker, selbstgekocht
✓ Goodie-Bag für alle Teilnehmer im Wert von 60€
✓ Profi-Bilder von Dir im Eis, für das Familienalbum
Hinzu kommen die typischen Wim Hof Method Benefits:
✓ Stärkung des Immunsystems
✓ Steigerung der Kraft- und Energiereserven
✓ Reduzierung von Stress und besserer Schlaf
✓ Verbesserung der Sportperformance
✓ Größere Kältetoleranz
Jeder Teilnehmer erfährt 'praktisch' die Kraft der Atmung (Atemübungen, Atembewusstsein, Atemkontrolle), die Energie der Kälte (Eisbad, Kältekontakt) und die Macht der inneren Stärke (Fokustraining und Meditation)
WAS MACHEN WIR:
✓ 45 min. Workout
✓ ATEMTRAINING
✓ WHM 3-Säulen-Training: Atmung, Mindset, Kälte
✓ Eisbad auf der Dachterrasse
✓ Theorie, Tipps & Tricks
✓ Tagesroutinen
✓ lecker Essen zum Abschluss
TAGESPROGRAMM:
10:00 – 11:00 POWER-WORKOUT, im Haus-Gym (Miszek, BLUZONE)
11:00 – 11:45 ATEMRAUMTRAINING, das Workout für die Atemmuskulatur
11:45 – 16:00 WIM HOF METHODE: Atmung, Kälte, Mindset, EISBAD
16:00 – 17:00 ABSCHLUSSESSEN: im bluzone-Style gesund & lecker
WAS MUSS MAN MITBRINGEN:
✓ Sportsachen für das 45 min. Power-Workout
✓ Yogamatte & bequeme warme Kleidung
✓ Schwimmsachen & Badelatschen für das Eisbad
✓ Handtücher, ggf. Bademantel
PREIS: 139€ / Person
SPRACHE: Deutsch
ORT: Hamburger Ding – Cross Community Space
Nobistor 16, 22767 Hamburg
Im HAMBURGER DING werden wir im STUDIO des ROOFTOP CAFÉs exklusiv die WHM trainieren, die Theorie dahinter kennenlernen. Wir werden im hauseigenen Gym mit Miszek ein POWER-Workout machen und auf der schöner Dachterrasse mit Blick zu den Hafenkränen werden wir unser EISBAD genießen. Abgerundet wird der Tag durch ein selbstgekochtes bluezone-Style Abschlussessen. UNBEDINGT DAS PROGRAMM LESEN!
Wir: Miszek (bluzone), Daniel (Wim Hof Method Coach) und das Hamburger Ding freue uns auf Euch!
Wim Hof Methode – Gesundheit, Stärke & Freude!